The CESE 2020 Annual meeting took place on Saturday, June 27th. A video of the Business Meeting, which included election of this year's officers, can be seen here.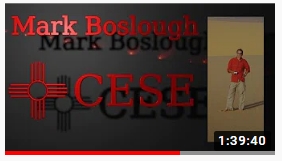 The keynote featured Mark Boslough, Ph.D., a research professor at the University of New Mexico, and physicist with Los Alamos National Laboratory. In "The Importance of Astronomical Drama," Mark discussed how meteors and comets impact society. The video of Mark's talk and the following Question and Answer period is here, as it was seen live on YouTube. The Q&A part of Mark's talk was also hosted on Zoom, and includes the same questions, along with videos of the CESE members themselves. The Q&A Zoom video can be seen here.
Congrats to the 2020-2021 Officers: President Lisa Durkin, Vice-President/President Elect Jesse Johnson, Secretary Dave Thomas, and Treasurer Steve Brugge.