Courtesy of CESE board member Jack Jekowski, we are pleased to provide several videos from our June 29th, 2013 Annual Meeting.
CESE Annual Meeting 2013 - Zack Kopplin Talk (30 minutes)
CESE Annual Meeting 2013 Zack Q&As (24 minutes)

CESE Annual Meeting 2013 Zack Q&As #2 (7 minutes)

Dave Magic Trick - CESE Annual Meeting 2013 (6 minutes)

CESE thanks Zack Kopplin for an inspiring talk!
The June 2013 Beacon  (Vol XVII, No 1) is online!
Contents Preview: Editor's Message – Kim Johnson;  Darwin and Wallace, What did they really think of religion? - Dr. Paul Braterman;  School Testing – Lisa Durkin; Cartoon - Dave Thomas; Meeting Announcement at the NM Museum of Natural History – Announcing the CESE 2013 Annual Meeting with a special guest, Zack Kopplin.
You can browse previous issues of the Beacon here.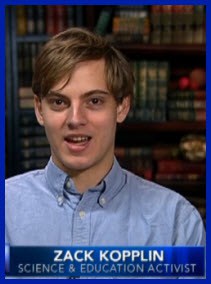 Our Annual Meeting will be held on Saturday, June 29th, 1:00-4:30 in Albuquerque, New Mexico, in the main lecture hall at Northrop Hall on the University of New Mexico campus.  Our speaker is noted Louisiana activist Zack Kopplin, who will be speaking on the topic "Why we need a Second Giant Leap."
Zack's efforts to overturn Louisiana's pro-creationist "Science Education Act" were discussed by Phil Plait in a May 5th blog at Slate.
More details about June's Annual Meeting will be forthcoming in the new Beacon.
Stay tuned!
Download this handy one-page flyer to give to your friends and social networks!
MAP TO NORTHROP HALL
We have published an update on the CESE Method, here. The CESE Method is a method for showing schools how to improve, as opposed to the current New Mexico Public Education Department system, that only shows schools how well they are doing compared to standards.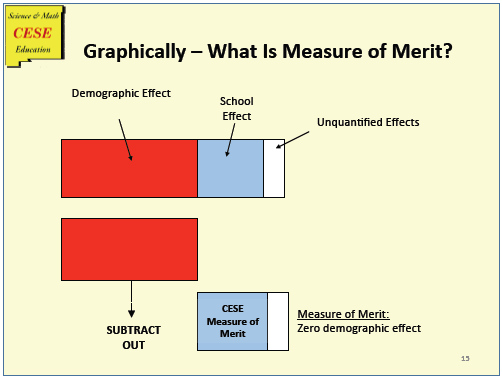 ... has joined the growing list of media outlets giving a nod to CESE's research on New Mexico's proposed A-F Grading System.

The guest viewpoint by Sherry Robinson appeared in the Monitor on August 4th, and is reproduced here for the benefit of CESE readers.  It does not appear to have been posted on the Monitor's website, but we will add a link to the article if it is posted in future.
Here are few teasers to whet your appetites for the article!
Now we're starting to hear from parties that don't have a political agenda, and it's official: The state's grading system of schools is too complicated, and the methodology is questionable.

The nonpartisan Coalition for Excellence in Science and Math Education says the state's A-F school grading system is hard to understand, and the system combines elements that are not only apples and oranges but tofu and cheeseburgers. As a result, the results can swing dramatically from year to year.

The coalition's only agenda is to improve math and science education in the state: its membership is weighted with scientists and engineers, many with national lab backgrounds. I've always found them reliable.
Thank you, Sherry Robinson!
Also new this week: Minutes of the 2012 Annual Meeting, featuring outgoing president Terry Dunbar and incoming president Ken Whiton's remarks, as well as a riveting presentation by former State Senator Pauline Eisenstadt on her tumultuous career at the New Mexico roundhouse.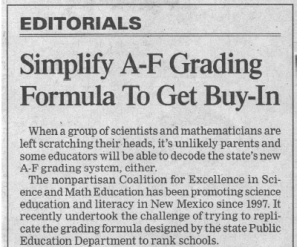 The Albuquerque Journal published an editorial on August 4th, titled "Simplify A-F Grading Formula To Get Buy-In." CESE is mentioned prominently!
When a group of scientists and mathematicians are left scratching their heads, it's unlikely parents and some educators will be able to decode the state's new A-F grading system, either.

The nonpartisan Coalition for Excellence in Science and Math Education has been promoting science education and literacy in New Mexico since 1997. It recently undertook the challenge of trying to replicate the grading formula designed by the state Public Education Department to rank schools.

It couldn't, partly because it didn't have all of the data the PED used, but the group concluded the formula is too complex, adds together incompatible elements and is so sensitive to small changes that unreasonable grade swings from one year to the next can result.

"We're not talking about a bunch of schmucks here who haven't seen this stuff before," said M. Kim Johnson, a retired physicist and an author of the report. "We think it's all probably above board, but we don't think the average person, school principal or superintendent could conceivably follow it."
Please, click through and read the entire editorial.
Thank you, Albuquerque Journal!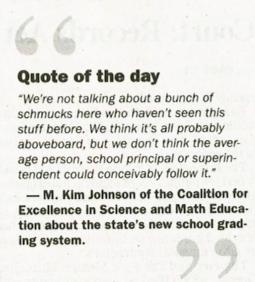 A major article by Hailey Heinz appeared in the Albuquerque Journal on Tuesday, July 31st, on page C-1 (Metro & NM), with the title " Group: Grading System Too Complex."  Also, a sound bite by our own Kim Johnson was selected by the Journal as Tuesday's "Quote of the Day."
The copyrighted article goes into detail on CESE's findings regarding the A-F grading system, and on its interactions with the state legislature.
The Heinz article notes that
A nonpartisan group of scientists and mathematicians says the state's new A-F school grading system is too complex for most people to understand, including principals and superintendents.

The group also believes the system adds elements together that aren't compatible, and that the formula's sensitivity to small changes results in unreasonable grade changes from one year to the next.
In addition, Heinz writes:
M. Kim Johnson, past president and an author of the report, said Rep. Rick Miera, D-Albuquerque, asked the group to examine the A-F school grading system and try to replicate it. Johnson said the group has testified before the Legislative Education Study Committee in the past and did so recently to present its findings.

...

Those findings were cited by Democrats in the Legislature, who sent out a news release last week expressing "deep concern" over the credibility of the A-F grades. Those quoted in the news release included Sen. Linda Lopez, D-Albuquerque; Sen. Howie Morales, D-Silver City; and Miera.
and continues:
The coalition contends it is mathematically inappropriate to add these [different] measures [of growth and current standing]  together. According to the report, such addition is "something like adding oranges and cows to derive pickup trucks. The result is not obviously meaningful."

... Doing so also is part of the reason for dramatic changes in grades.

Those changes have come under scrutiny, as some school grades went from "B" to "F," and vice versa, between preliminary January grades and final July grades.
The full article in appears in the Wednesday Journal.