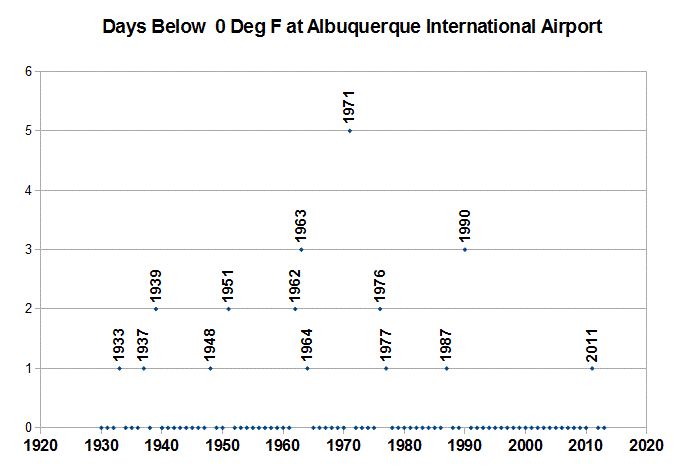 Now that we're leaving the winter of 2013-2014 behind, we've probably heard several comments to the effect "With all this snow back east, so much for Global Warming, huh?"
However, this season's bizarre ups-and-downs are more of a symptom of climate change than a disproof of the same. Yes, there can still be heavy storms - a warmer climate means more moisture, and the potential for more snow at times.
The fact is, there used to be more frequent snow-storms before the late 20th century.  A recent XKCD cartoon called "Cold" makes this point very well. The cartoon shows that the frequency of days below 0 degrees F in St. Louis, Mo. has fallen off as global warming continues.
A few months back, CESE's Kim Johnson and Dave Thomas were guests on the 94 Rock Morning Show, and discussed various topics related to climate and warming. As  prep for the show, Dave downloaded 80 years of climate data for the Albuquerque International Sunport, and plotted a chart similar to XKCD's for St. Louis. The same trend exists in Albuquerque - frigid days (below 0 deg. Fahrenheit) used to happen two or three times a decade before 1990, but only one such day has occurred since 1990 - and that was the infamous Groundhog Day Blizzard, which paralyzed much of the nation for a couple of days in February 2011.  If you were in Albuquerque in the winter of 1970-71, you probably remember the severe cold snap of 17 deg. below zero. It's on the chart!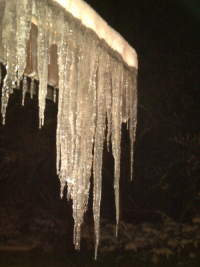 The Groundhod Day Blizzard of 2011, as seen by Dave Thomas at his home in Peralta, NM.
You can listen to Kim and Dave on 94 Rock at these links: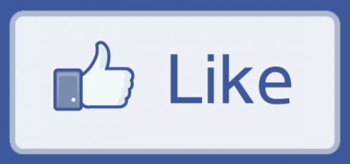 CESE now has a new Facebook Page. Check it out, and be sure to Like the page, and Share it with your friends!