Dr. Marshall Berman passed away on October 25, 2015 in Louisville, CO, at the age of 76. Marshall was a devoted father, scientist, educator, and leader. He is survived by his partner Jan Harkins, his sons Brandon and Brian Berman, his daughter Brenna Berman, his sister Rhoda Berman, and four grandchildren.
Marshall was born on June 16, 1939 in Detroit, MI, to his parents Martin and Esther Berman. He was valedictorian of his high school class and graduated with a B.S. with Distinction in Physics from the University of Michigan. He went on to receive his Ph.D. in Nuclear Physics from Wayne State University.
In 1966, Marshall married Nancy Thomadsen and shortly thereafter moved to Albuquerque, NM, after accepting a position at Sandia National Laboratories where he worked for 32 years on nuclear reactor safety, managed a variety of defense research projects, and served as Executive Director of the Innovation Initiative for the U.S. Council on Competitiveness. He raised his family in Albuquerque and enjoyed excelling in hobbies including photography, landscaping, and woodworking.
As Marshall neared retirement at Sandia, he was elected to the New Mexico State Board of Education and served on the board for four years. He was passionate about changing science education standards for the children of the State of New Mexico and went on to be the founding president of the Coalition for Excellence in Science and Math Education (CESE), devoting his time to help ensure the integrity of New Mexico's education system. He was also an early and active member of New Mexicans for Science and Reason and served a term as president of the New Mexico Academy of Science.
A memorial service will be held Saturday December 12, 2015, at 1:00pm at the First Unitarian Church (3701 Carlisle Blvd NE, Albuquerque, NM 87110). All are welcome to attend and celebrate Dr. Berman's life (please RSVP here).
In lieu of flowers, please consider making a tax deductible donation to CESE via mail Steve Brügge, CESE Treasurer, 803 Maverick Trail SE, Albuquerque, NM 87123.
---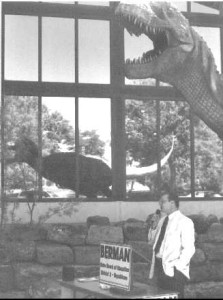 Dr. Marshall Berman campaigning for the State Board of Education, 1998. Below: L-R Sen. Harrison Schmitt, Dr. Richard Nygren, Dr. Al Narath, Dr. Marshall Berman, Dr. Laura Crossey, and Rev. Clyde Stansfield.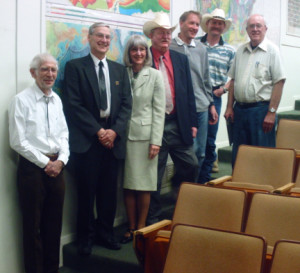 The "Darwinist Swat Team", L-R Marvin Moss, Marshall Berman, Eugenie Scott, Kim Johnson, Mark Boslough, Jesse Johnson, and Harry Murphy.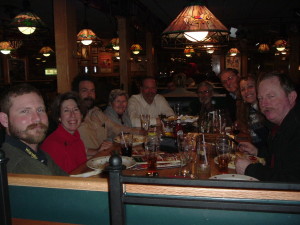 Pro-science dinner, L-R: Jesse Johnson, Marilyn Savitt-Kring, Dave Thomas, Nancy Shelton, Ken Miller, Jerry Shelton, Marshall Berman, Lisa Durkin and Kim Johnson.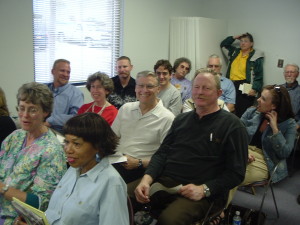 At the Rio Rancho School Board, upon victory against a flawed "Intelligent-Design-Friendly" science policy (April 2006)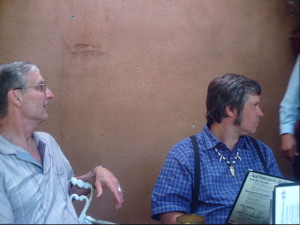 Marshall and Brian "Fox" Ellis (Darwin performer)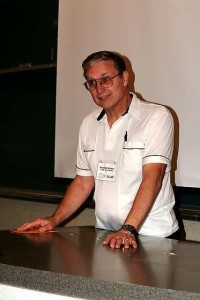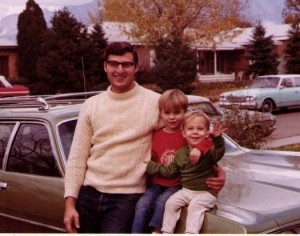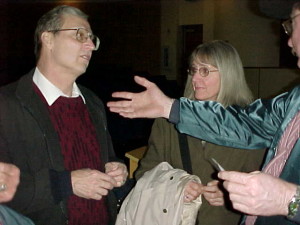 Marshall Berman talks shop with Genie Scott and Kim Johnson.