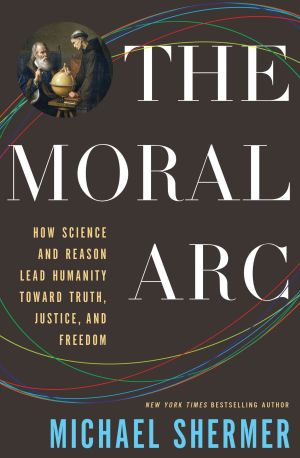 The Coalition for Excellence in Science and Math Education  (CESE) and New Mexicans for Science and Reason (NMSR) are pleased to sponsor a lecture by Dr. Michael Shermer on Saturday, February 21st, 2015, 1:30PM, at the First Unitarian Church, 3701 Carlisle Boulevard Northeast, Albuquerque, NM 87110.
Dr. Shermer will be signing copies of his new book, "The Moral Arc of Science - How Science Has Bent the Arc of the Moral Universe Toward Truth, Justice, Freedom, & Prosperity."
The arc of the moral universe bends toward truth, justice, freedom, and prosperity thanks to science-the type of thinking that involves reason, rationality, empiricism, and skepticism. The Scientific Revolution led by Copernicus, Galileo, and Newton was so world-changing that thinkers in other fields consciously aimed at revolutionizing the social, political, and economic worlds using the same methods of science. This led to the Age of Reason and the Enlightenment, which in turn created the modern secular world of democracies, rights, justice, and liberty.
About the Speaker
Dr. Michael Shermer is the Founding Publisher of Skeptic magazine and editor of Skeptic.com, a monthly columnist for Scientific American, and an Adjunct Professor at Claremont Graduate University and Chapman University. Dr. Shermer's latest book is The Believing Brain: From Ghosts and Gods to Politics and Conspiracies-How We Construct Beliefs and Reinforce Them as Truths. His last book was The Mind of the Market, on evolutionary economics. He also wrote Why Darwin Matters: Evolution and the Case Against Intelligent Design, and he is the author of The Science of Good and Evil and of Why People Believe Weird Things. Dr. Shermer received his B.A. in psychology from Pepperdine University, M.A. in experimental psychology from California State University, Fullerton, and his Ph.D. in the history of science from Claremont Graduate University (1991). He was a college professor for 20 years, and since his creation of Skeptic magazine he has appeared on such shows as The Colbert Report, 20/20, Dateline, Charlie Rose, and Larry King Live (but, proudly, never Jerry Springer!). Dr. Shermer was the co-host and co-producer of the 13-hour Family Channel television series, Exploring the Unknown.